The Nintendo 3DS photography competition in the UK was announced in the beginning of the month, and it brings in the interest from all around the world and people can turn into photographers with the Nintendo 3DS and the 3D photography category of its would be searching for the best photographers and the champion would be a winner of some exciting prizes, along with a good recognition for the creativity and talent. The National Geographic Kids is collaborated with the world's oldest national photographic society, The Royal Photographic Society (RPS). The National Geographic Kids is well known for the wildlife photography and thus have brought themselves into the scene where they are searching for the talent.
The competition is held in various categories and niches, and so if you are someone who is exceptional in the field of nature, you won't be competing someone who captured pictures in the animal category. This makes the contest more relevant and also at the same time, you get more strength and probability of winning the contest. The theme you are capturing in, would have its own winners and competitors and things are not totally generalized. The categories include: Animals, People, Places, Objects, Nature and Augmented Reality, which fully utilizes the Augmented Reality features of the Nintendo 3DS system. The photo entries will be judged by an expert panel, including Lauren Jarvis, editor of National Geographic Kids magazine, and Dr Michael Pritchard, Director General at the RPS.  The most promising contestant and the photographer would win the prize of a trip of two to Paris, and along with that, a photography masterclass, while lucky runners-up will be awarded Nintendo goodies in recognition of their skill.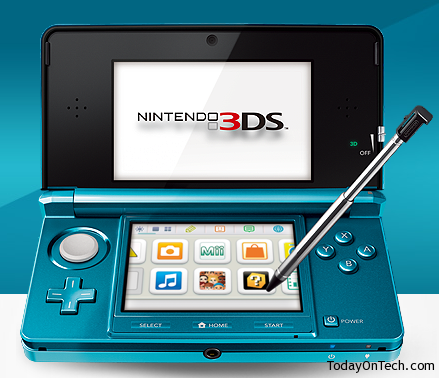 "We're really excited to be working with Nintendo on this project," says Dr Michael Pritchard, RPS. "3D photography has been around since the 19th century, but Nintendo 3DS gives people of all ages the opportunity to experiment with the technology and create their own 3D masterpieces."
Lauren Jarvis, Editor of National Geographic Kids magazine, says, "There's so much to be inspired by in the UK, whether you live in the city or the countryside. National Geographic Kids is all about young people getting out and exploring their world, and I can't wait to see the 3D pictures they capture on this Nintendo 3DS game."
How to enter:
Entering the Nintendo 3DS photography competition couldn't be simpler. Take a 3D photo in-line with one of the six themes, using the in-built cameras on the Nintendo 3DS system. Once you have captured your masterpiece, upload it to the dedicated competition website www.nintendo.co.uk/3dphotocontest between 2nd April 2012 and 17th June 2012. The dedicated competition website is accessible through the Nintendo 3DS browser on the Nintendo 3DS system or through an Internet browser on a computer, and will feature galleries of all the images that have been uploaded. Each photo uploaded to the website will have its own dedicated QR Code and, by reading these QR Codes on the Nintendo 3DS system, users will be able to view their favourite images in 3D.
Recent research from Nintendo found that 60% of Nintendo 3DS owners take more than 100 photos a year* and 13% take as many as 1,000, which equates to three a day*. So say "cheese" and get capturing using the in-built cameras on the Nintendo 3DS system today!
The Nintendo 3DS features two outer-facing and one inner-facing camera, allowing you to take both 2D and 3D photos, and record up to 10 minutes of 3D video footage. Photos taken using the Nintendo 3DS cameras can be customised by adding fun and creative filters and effects.  You can even draw on your photos using the Nintendo 3DS stylus to give them that personal touch.
To be in with a chance of being crowned the UK's best photographer by the expert panel, check www.nintendo.co.uk/3dphotocontest for details on entry requirements and the full terms and conditions of entry. If you think you've got what it takes to take an award-winning 3D photo, then head out with your Nintendo 3DS today and get snapping!
Keep up to date with all the official Nintendo announcements and exclusive new game information by following the official Nintendo UK Twitter feed @NintendoUK
About Nintendo 3DS:
Nintendo 3DS offers Parental Controls so that parents can control the level of 3D their children can view on the Nintendo 3DS as well as the content they can access. Nintendo 3DS also features a 3D depth slider, which lets players turn off or adjust the level of 3D they want on the 3D Screen; two built-in screens for different functionality; a Circle Pad, which provides a full 360 degrees of direction; a built-in motion sensor and gyro sensor. It is equipped with three cameras (two of which are facing outwards to allow the taking of 3D pictures and 3D video), houses a 2GB SD Memory Card and is compatible with AR Cards which come packaged with Nintendo 3DS. Nintendo 3DS is also backwards compatible with all existing Nintendo DS games, which can be played in 2D on your Nintendo 3DS system. www.nintendo3ds.co.uk
About Nintendo:
The worldwide pioneer in the creation of interactive entertainment, Nintendo Co., Ltd., of Kyoto, Japan, manufactures and markets hardware and software for its Wii™ home console, Nintendo 3DS™ and Nintendo DS™ family of portable systems. Since 1983, when it launched the Nintendo Entertainment System™, Nintendo has sold more than 3.9 billion video games and more than 620 million hardware units globally, including the current-generation Wii, Nintendo 3DS, Nintendo DS, Nintendo DSi™ and Nintendo DSi™ XL, as well as the Game Boy™, Game Boy Advance™, Super NES™, Nintendo® 64 and Nintendo GameCube™ systems. It has also created industry icons that have become well-known, household names such as Mario™, Donkey Kong™, Metroid™, Zelda™ and Pokémon™.  A wholly owned subsidiary, Nintendo of Europe, based in Grossostheim, Germany, was established in 1990 and serves as headquarters for Nintendo's operations in Europe.
About The Royal Photographic Society:
The Royal Photographic Society is an educational charity. It was founded in 1853 'to promote the Art and Science of photography' and was granted the use of the title 'Royal' in 1894 and it's Royal Charter in 2004. With a membership open to everyone The Society is the UK's largest organisation representing photographers with nearly 11,000 members in the UK and abroad. The Society aims to help everyone interested in image-making to develop and enhance their skills. The Society publishes the Photographic Journal holds over 300 events around the UK and has a distinctions programme to recognise technical competence and creativity in photography. Its world-class Collection of historic photographs, equipment and library is housed for nation at the National Media Museum, Bradford. For more information see:  www.rps.org
About National Geographic Kids magazine and website:
National Geographic Kids is an exciting and engaging monthly magazine for boys and girls that makes it fun to learn about the world. With more than 20 international editions, a global circulation of 1.7 million, and a readership of over four million, National Geographic Kids is the world's biggest-selling, multi-topic children's magazine. Here in the British Isles, National Geographic Kids is one of the fastest-growing children's titles, selling over 70,000 copies every month through subscription and newsstand sales.
Over 90% of parents read National Geographic Kids with their children, and the magazine is being used frequently by teachers and pupils in classrooms. National Geographic Kids is packed with fantastic stories, fun activities, cool competitions, brain-bending puzzles and amazing facts to inspire, educate and entertain young readers. It also features the breathtaking photography you would expect from the National Geographic brand.
Its website ngkids.co.uk aims to inspire children to care about the planet, and covers a multitude of topics – including animals, entertainment, science and technology – as well as fun quizzes and competitions.